In-Win Case IW-BP655.FH300TB3 Mini-ITX SFF Bays USB HD Audio Fan 300W
Part Number: BP655.300TB3L



| | | |
| --- | --- | --- |
| Our Price | | $79.99 |
| Discount | | -$ |
| Instant Discount | | -$0.00 |
| Mail-in Rebate | | -$0.00 |
| Sale Price | | $0.00 |
| You Save | | $ |



Overview
Specifications
Warranty
Manufacturer's Page
In Win BP655 Mini-ITX Computer Case
The In Win small form-factor case is an ideal solution for space-limited conditions, such as Home Theater PC applications. Featuring rugged construction and a stylish appearance, this case is small enough to blend beautifully into any environment, yet has all the room you need to build your dream Mini ITX system. There's also space for a 5.25" external drive and a 3.5" internal drive as well as a low profile expansion card. Easy-to-access front I/O panel gives hassle-free access to two USB 2.0 ports and audio jacks. It'll all run cool and steady with the included 200-Watt power supply and 80mm top fan. Whether you're looking for a space-saving desktop or a case for your HTPC, the In Win desktop will keep it in style!
Features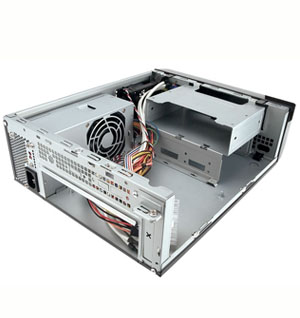 Easy Integration

The BP Series was designed to offer quick integration. No peripheral carrier or bezel must be removed for assembly. This allows very quick assembly and reduces costs.
Optimal Thermal Performance

An ultra-silent 8cm case fan with Intel Thermally Advantaged Small Chassis 1.0 vents help to improve the airflow and optimize thermal performance, keeping temperatures below 102°F (39°C).
Supports Mini-ITX Motherboard

Supports Mini-ITX motherboards for a wide choice of system features and price points.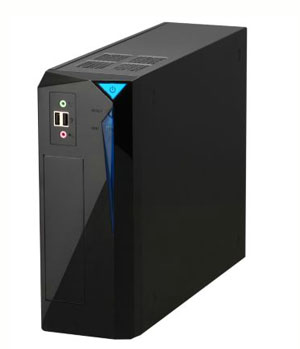 Standard TFX 12V Power Supply

Internal TFX 200W Power supply included, equipped with a temperature control sensor that reduces noise for very quiet operation.
Standard Components

The BP Series supports standard size components (5.25" & 3.5"). The use of standard components helps to maximize configuration choices and minimize product costs.
Tool-Free

Optional screw-less designs - ODD bay and side panel for easy assembly.
Antenna Mount Ready for WLAN Card

System Acoustic Result
| | |
| --- | --- |
| System Run | Sound Pressure |
| Idle | 29.2dB |
| Max Power (CPU 100%) | 33.4dB |